Nei miei post vi ho parlato di come mettere al sicuro i vostri dati, tenendo in considerazione come aspetto principale la vostra privacy.
Sempre con la stessa filosofia vi invito a provare ed utilizzare Bleep, un nuovo prodotto di BitTorrent per chiamare e, come WhatsApp, per mandare e ricevere messaggi, foto, audio.
E' ancora in fase alpha ma vi invito a provarla, queste sono le principali caratteristiche che ho trovato intressanti:
Non è necessario registrarsi tramite numero telefonico o indirizzo mail. E' possibile utilizzare Bleep scollagato da numero di telefono o indirizzo email, scambiandosi le chiavi private tra amici oppure usando uno user name.

Messaggi e telefonate. Nessun messaggio risiede o transita su server esterni, le chat e le chiamate sono punto a punto, criptate dall'inizio alla fine con chiavi private.

Aggiungi un amico di persona. E' il momento di crear una "rete-di-fiducia" con i vostri amici, aggiungetevi a vicenda, di persona, tramite QR Code per una sicurezza totale. Quale miglior occasione se non un Party!

Cancellazione dei messaggi. Per essere sicuri che nessuno veda i messaggi che avete salvato sul cellulare esiste una automatismo che li cancella una volta letti.

Gratis per sempre.

Sia per mobile che per PC e MAC.
---
STAY TUNA!
@fa-desktop@ per info, suggerimenti, richieste o se volete che "ci pensi io" scrivete ad: albi[chiocciola]twelvepurplepills.com
@fa-coffee@ Vi siete trovati bene con le mie guide e volete offrirmi una bella birra o un caffè? Fate una piccola donazione con Paypal!
@fa-floppy-o@ Photo Credit: Bleep
---
READ THE BOOK!
Se non sapete cosa siano chiavi pubbliche e private, se vi piacciono i libri "Nerd", leggetevi "Little Brother" di Cory Doctorow è gratis! Qui sotto un estratto del libro che parla di questo argomento.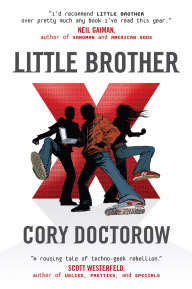 @fa-book@ Little Brother - un estratto
OMG we're doomed
No it's not that bad but we need to figure out who we can trust
How?
That's what I wanted to ask you -- how many people can you totally vouch for like trust them to the ends of the earth?
Um 20 or 30 or so
I want to get a bunch of really trustworthy people together and do a key-exchange web of trust thing
Web of trust is one of those cool crypto things that I'd read about but never tried. It was a nearly foolproof way to make sure that you could talk to the people you trusted, but that no one else could listen in. The problem is that it requires you to physically meet with the people in the web at least once, just to get started.
I get it sure. That's not bad. But how you going to get everyone together for the key-signing?
That's what I wanted to ask you about -- how can we do it without getting busted?
Jolu typed some words and erased them, typed more and erased them.
Darryl would know
I typed.
God, this was the stuff he was great at.
Jolu didn't type anything. Then,
How about a party?
he typed.
How about if we all get together somewhere like we're teenagers having a party and that way we'll have a ready-made excuse if anyone shows up asking us what we're doing there?
That would totally work! You're a genius, Jolu.
I know it. And you're going to love this: I know just where to do it, too
Where?
Sutro baths!